Different Types Of Hearing Implants From Cochlear, Med-el and Advanced Bionics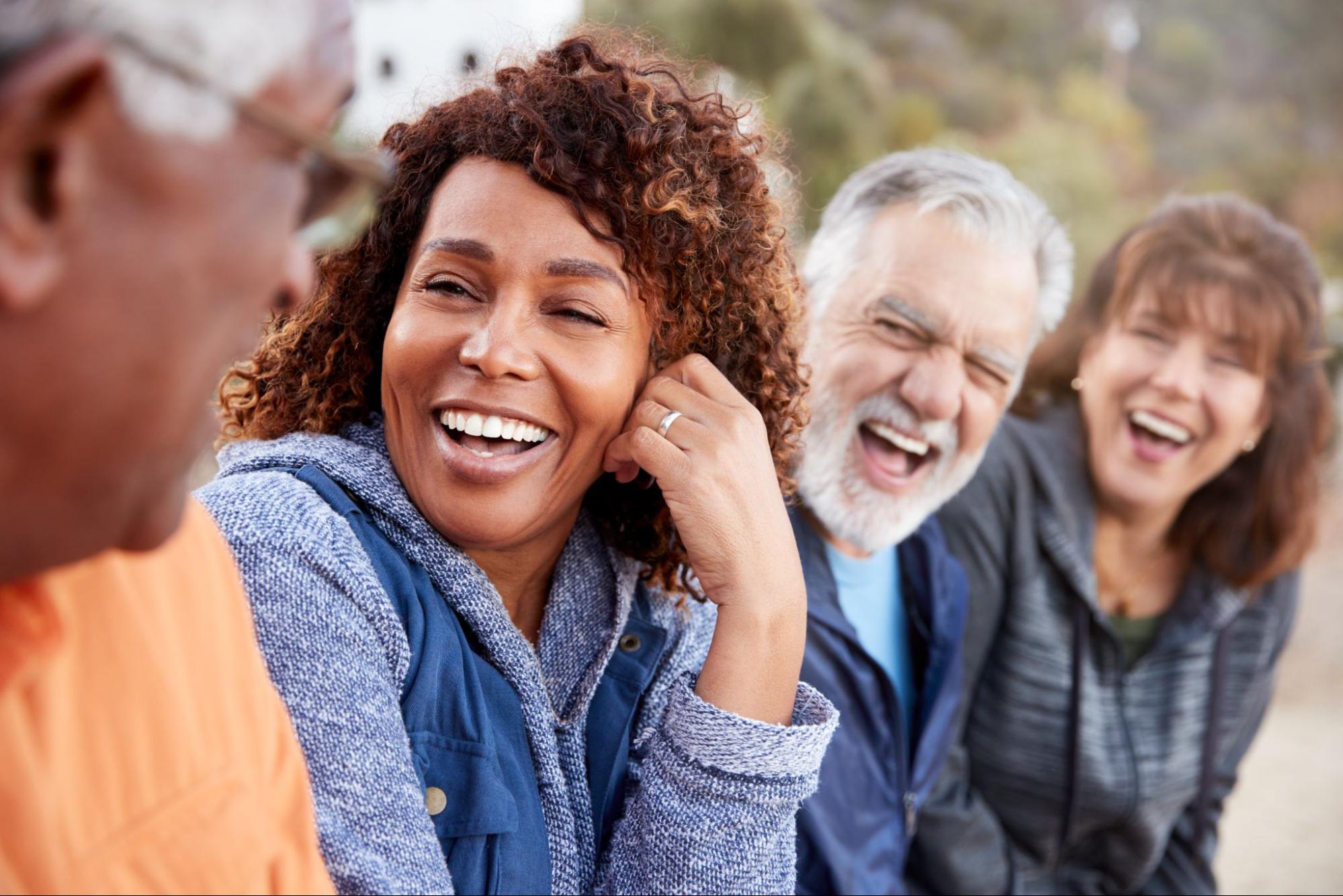 Did you know that Cochlear implant procedures have been performed for over 40 years? Since 1977, over 550,000 Cochlear hearing devices have been implanted worldwide. It is estimated that more than 15 million people around the globe could potentially benefit from a Cochlear implant. But Cochlear implants are just one type of hearing implant. There are, in fact, many others, including devices from brands like Med-el and Advanced Bionics.
This article will discuss the different types of hearing implants before looking at the Cochlear implant providers commonly available and approved for use in Australia.
Firstly, a reminder to read our introductory post on Cochlear implants to find out what they are and how they work – if you haven't already. 
What is a Hearing Implant?
Hearing implants are compact electronic devices that are surgically implanted into the ear. Hearing implants can provide a range of benefits to a person with moderate to severe hearing loss. 
What Types of Hearing Implants Are There? 
The most common types of hearing implants include:
About Cochlear Implants
A Cochlear implant is a small electronic device that helps those with moderate to severe hearing loss. Although Cochlear implants cannot restore normal hearing; they can restore some hearing capabilities in people who have severe to profound hearing loss. Cochlear implants are a fantastic technology that allows those with little to no hearing to experience sounds again and improve their day to day communication with friends and family. 
How do cochlear implants work?
In Cochlear implants, an external speech processor captures the sound and converts it into digital signals. Those signals are passed on to an internal implant that is inserted in the middle ear. There, the signals are converted into electrical energy and passed on to the Cochlear to stimulate the hearing nerve whilst bypassing damaged hair cells.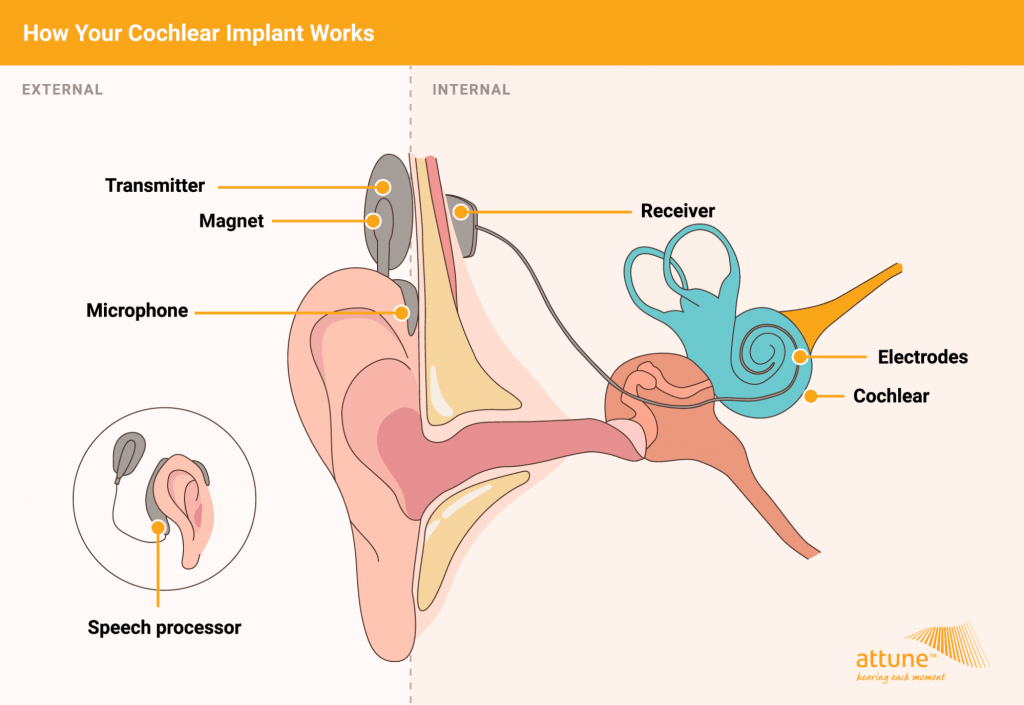 What's the difference between a hearing implant and a hearing aid?
Cochlear implants differ from hearing aids in that they are surgically placed under the skin behind the ear – hence the term "implant". 

Whilst hearing aids magnify sounds; Cochlear implants change the way a person receives sound.

Cochlear implants require surgery under general anaesthesia, whereas hearing aids can be fitted during a short visit to your trusted Audiologist. 

Hearing aids fit a broad range of hearing loss needs, whereas Cochlear implants are meant for moderate to severe cases of hearing loss. 
The Different Types of Cochlear Implants
There are three major global manufacturers of Cochlear implants that supply the Australian market: Cochlear, Med-el and Advanced Bionics. Within the three manufacturers, there are various brands and types of hearing implants, which can be confusing. 
Your Implant Audiologist can help you navigate these options and assist with decision making based on:
Your medical conditions

Clinical hearing test results

Your dexterity 

Your occupation and lifestyle requirements

As well as physiological, aesthetics, and monetary needs 
You may be able to choose which brand and device you want, depending on whether you participate in a private or public Cochlear implant program. The latter may only have one brand available.
Reviewing different products can be super confusing. Many Cochlear implants have more than 60 features and there are many general differences between the three brands. This task is made more accessible by the Cochlear Implant Comparison Chart, created by Tom Hannon and Howard Samuels, both bilateral Advanced Bionics recipients.
The brand comparison chart below has been reduced for ease of reference. It is to be used as a guide only. The revised brand comparative chart highlights the different types of cochlear implants available in the Australian market.
ADVANCED BIONICS
COCHLEAR
MED-EL
COMMENTS
Owned by

Sonova Holding AG 

Cochlear Limited

Prof. Erwin Hochmair &

Dr. Ingeborg Hochmair

Location

California, USA

Sydney, Australia

Vienna, Austria

Implants

HiRes Ultra

3D

HiRes Ultra

HiRes 90K Advantage

HiRes 90k

CI632 Slim Modiolar

CI612 Slim Straight

CI612 Contour Advance

CI532 Slim Modiolar

CI512 Contour Advance

CI522 Slim Straight

CI422 Slim Straight

CI24RE Contour Advance (CA) or Full-Band Straight (ST)

SYNCHRONY

CONCERT

SONATA

No. of electrodes

16

22

Up to 24

Electrical contacts between the implant and the cochlea.

Implant weight in grams

HiRes Ultra3D:11.0

HiRes Ultra:     10.0

Advantage:      12.0

HiRes 90K:      12.0

CI632/622/612:   3.9

CI532:                 8.6

CI512/CI522:       8.6

CI422:                 9.5

CI24RE(CA):       9.5

CI24RE(ST):       9.5

SYNCHRONY:    7.6

CONCERT:         7.6

SONATA:            8.6

All have a titanium casing.

Removable magnet

HiRes Ultra3D:      Yes

HiRes Ultra:          Yes

Advantage:           Yes

HiRes 90K:           Yes

CI632/622/612:  Yes

CI532:                Yes

CI512/CI522:     Yes

CI422:                Yes

CI24RE(CA):      Yes

CI24RE(ST):      Yes

SYNCHRONY:      Yes

CONCERT:         No

SONATA:            No

MRI magnet safety varies by regulatory approval:

An MRI may be available with a special compression bandage in some markets.

Sound processor

Naída CI Q90 (behind the ear)

Neptune (body-worn)

Nucleus® 7 CP1000 (behind the ear)

Kanso CP950 (off the ear)

SONNET 2 (behind the ear)

Rondo 2 (of the ear)

Remote control

MyPilot (Nadia CI Q90)

CR310 remote control and ability to pair to iPhones and some Android phones for remote control and other functions

Fine Tuner

Echo

IP rating (water-resistant and dust resistant)

IP57: Naída CI Q90 with Power Cel batteries.

IP68: Naída CI Q90 with Aqua Case, AquaMic & PowerCel 110 Mini,110 or 170 Mini batteries.

IP68: Neptune sound processor &

AquaMic configuration

IP44: Nucleus 7 processor with

disposable battery module.

IP57: Nucleus 7

processor with a rechargeable battery module.

IP68:Nucleus 7 Aqua+ with Aqua+ coil & rechargeable batteries.

IP54:Kanso7645764444444444444444444444444445423`

IP68:Kanso Aqua+ with alkaline or 

 nickel-metal hybrid batteries

IP54: SONNET 2 with standard rechargeable battery

IP54: RONDO 2

IP68: SONNET 2 with WaterWear Accessory

using standard 

rechargeable battery or

replacing zinc-air batteries with

Alkaline or Silver Oxide

Batteries

IP68: RONDO 2 WaterWear

IP 68: RONDO 2 WaterWear 

Battery-life

Naída CI Q90 PowerCel

110/110 Mini:               12hours

170/170Mini:                18Hours 

230:                              25hours

Neptune Ni-MH AAA:   21hours

**Disposable batteries 

Naida CI Q90  31hrs

Nucleus 7

Compact:19hours

Standard:40Hours

Kanso = N/A

**Disposable batteries N7 60hrs & Kanso 16hrs.

SONNET 2

Micro: 7 hours

Standard: 10 hours

RONDO 2

Lithium-ion: 18 hours 

**Disposable batteries 

SONNET 2: 60hrs

Programming algorithms trade battery life for 

hearing performance.

Streaming and use of wireless accessories will affect battery life.

**Disposable batteries based on using zinc-air batteries (675).

Wireless bilateral controls

Naída CI Q90: Yes

Neptune: No

Nucleus 7: No

Kanso: No

SONNET 2: No

RONDO 2: No

Bilateral recipients can control both processors from either processor.

Wireless streaming

Naída CI Q90:            Yes

with compatible

Phonak hearing aid

Neptune:                     No

Nucleus 7: Yes, with compatible Resound hearing aid

Kanso:  Not specified

SONNET 2: Yes, using

telecoil

RONDO 2:Yes, using a telecoil

Stream sounds from an external device to a cochlear 

processor and a compatible Dr

hearing aid simultaneously.

**Note: All of the models can stream wirelessly between the processor & external Bluetooth devices. Only Cochlear N7 & SONNET 2 can stream directly to iPhones & some Android phones.

***All models have a telecoil.

Device compatibility

Naída CI Q90:  No

Neptune: No

Nucleus 7: Yes 

Kanso: No

SONNET 2:   Yes

RONDO 2:     No

Ability to control a sound processor using an app on a smartphone device.
Industry experts, including experienced Implant Audiologists, will tell you there's little difference between the three brands listed concerning sound processing. The comparison chart between the brands shows that other factors will influence which brand to choose from a patient, surgical, and audiological view. 
Your surgeon will always choose the internal implant device from whichever brand has been selected, given factors such as your Cochlea anatomy and whether hearing preservation is required. With input from your Implant Audiologist, you will make the final decision about which brand external sound processor device you prefer (unless you are in an implant program that chooses for you).
In a Nutshell
Three major global Cochlear implant manufacturers supply their hearing implants to Australians with severe to profound hearing loss. All have excellent quality assured mechanisms in place and are well versed in producing and providing world-class implant devices. 
Your Implant Audiologist and Implant Surgeon will discuss your options with you and assist in making the right decision. If you are not part of a hearing implant program, you will have several options to choose from.
All brands have standard options and accessories; others may have to be purchased separately. You will need to check the 'What's in the kit' pages of each brand and discuss those with the Implant Audiologist. Your Implant Audiologist can show you all the models available and allow you to handle them, look at sizes and shapes, see the wireless options and other accessories, and learn about their features. 
Ultimately, you can rest assured that you will receive a quality product from major brands, approved by the Therapeutic Goods Administration (TGA) to provide their Cochlear implant types in Australia.
To start your journey to greater hearing health today, contact your local Attune hearing clinic at 1300 736 702 or book your hearing test online!  
Enquire now