Workplace Hearing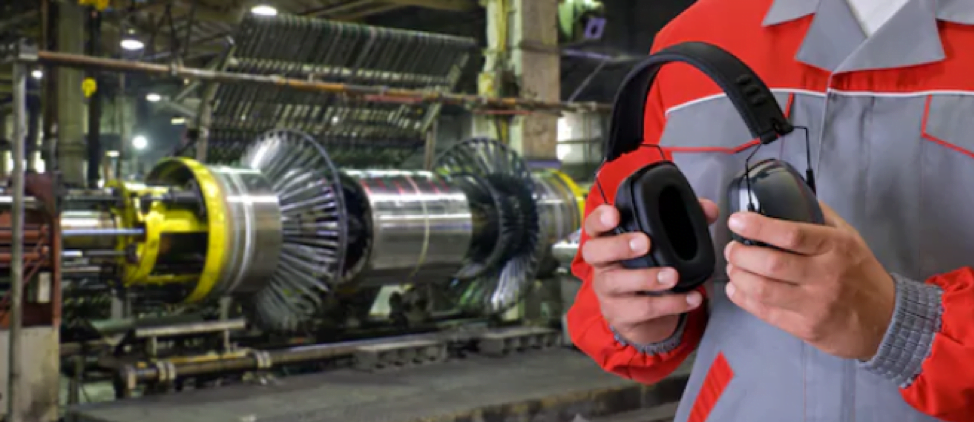 We are surrounded by noise every day; however, some noises can damage our hearing more than others. If you hear yourself shouting to be understood within a close proximity of your co-worker at work, your surrounding noise levels are likely to be too loud and damaging. This increases your chance of Noise Induced Hearing Loss (NIHL) which can be of a temporary or permanent nature. NIHL is the continuous exposure to loud noise levels and is found commonly in industries such as construction, transport, mining, defense and agriculture.  According to Hearing Health Australia, 1 in 7 Australians are affected by hearing loss and this number is projected to increase to 1 in 4 Australians by 2050.
Daily exposure to excessive noise in the workplace is the primary factor in many cases of hearing loss in the working population with more men then woman being affected. Beyond hearing loss, elevated noise levels can reduce a person's capacity to communicate and can impact a person's learning abilities to gain competitive skills and employment in the workplace. This can cause increased stress levels, workplace accident rates and simulate aggression and other anti-social behavior. Furthermore, adverse health effects such as hypertension, diabetes, cardiovascular impacts and dementia are associated with hearing loss.
Given the potential effects that hearing loss can have on the health and wellbeing of employees, noise and noise induced hearing loss pose significant consequences for employers. According to Hearing Health in Australia 2017, the estimated financial cost of hearing loss is over $15.9 billion per annum and a large attribute to this cost is lost wages and productivity among people with a hearing loss in the workplace.
Noise induced hearing loss is permanent, measurable, costly but preventable.
Section 12 of the Workplace Health and Safety Act 1995 states that employers must prevent risks to the health and safety of workers from exposure to excessive noise at work. Under the regulations, "excessive noise" is a level of noise above 85dB per 8 hours. In addition, employers are bound by the Noise Code of Practice. This code of practice gives practical advice about identifying sources and levels of noise, assessing exposure to noise and eliminating or minimizing noise exposure as a risk to health and safety at the workplace. At Attune Hearing, we understand the importance of your hearing health and the statutory obligations and obligations of non-compliance for employers. That is why we are here to help. Whether it is rehabilitation, management or prevention, if noise is a hazard in your workplace, Attune Workplace can help you with our comprehensive range of specialist hearing and noise solutions.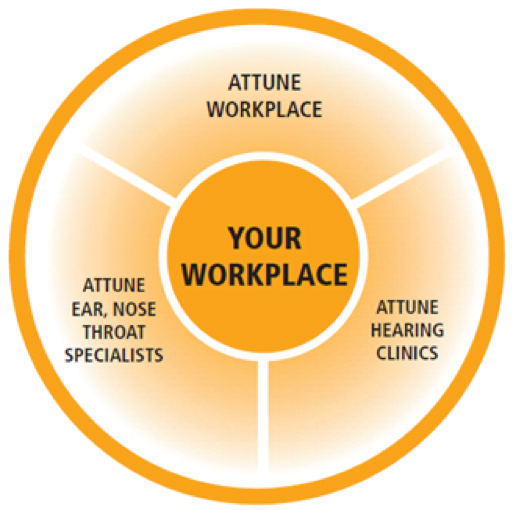 Attune Hearing is proud to be the first and only Audiology company in Australia to be QIP Accredited to the National Safety and Quality Health Services (NSQHS) Standards. Our services for Audiometric Testing and Audiology Testing are of the highest quality having met these strict NSQHS standards. All our audiologists are accredited with Audiology Australia, and work closely with Ear, Nose and Throat (ENT) Specialists to help diagnose medical issues which could affect an employee's hearing. Our team of highly trained audiometric testing officers and audiologists conduct Audiometric Tests (Pure Tone Audiometry) and Full Diagnostic Audiology Assessments in compliance with Australian Standards AS1269.4:2014, Work, Health and Safety (WHS) Regulations and Occupational, Health and Safety (OHS) Regulations, and the Code of Practice for Managing Noise and Preventing Hearing Loss at Work.
Attune Workplace Hearing is a leading provider of Audiometric Services, Audiological Services, and Noise Assessments for workplace clients in Australia.
Attune Workplace combines with Attune Hearing clinics and Attune Ear Nose and Throat Specialists to provide a unique and holistic approach to workplace hearing issues. With our focus on risk, productivity and wellness, Attune Hearing can add real value to your organization. Attune Workplace help employers and employees to understand and meet statutory obligations and mitigate the productivity loss consequences of noise induced hearing loss. We also partner with employers as part of their ongoing wellness programs by offering a range of benefits to employees and their families.
Attune Workplace's core focus is to provide help to workplace clients by managing hazardous noise exposure within their workplace and mitigating risks associated with noise induced hearing loss (NIHL). The services we offer include:
   

Mobile-site hearing screenings
Our audiometric officers travel to you. Unlike common workplace testing providers, to create a quiet environment for audiometric testing for consistent and accurate results, Attune Workplace refrains from using Mobile Vans as noise from outside can often be heard inside which interferes with the testing environment. To guarantee accurate results, Attune Workplace uses an Audiometric Booth for onsite hearing screenings. It can be pushed up and down wheel-chair ramps and it fits through any standard size doorway allowing for easy access to any building.  The mobile-site hearing screening takes around 6-8 minutes per person and is non-invasive and effective.
   

Pre and post-employment hearing screenings in Attune clinics
In order to ensure your ears are in good health pre and post-employment, Attune Hearing offers hearing screening for employees complying with Section 5.7 "Audiometric Testing"-Code of Practice for Managing Noise and Preventing Hearing Loss at Work. Baseline Audiometric Tests must be provided within 3 months of the worker commencing work, or during pre-employment medicals and follow-Up Audiometric Tests must be carried out at least every 2 years.
   

Noise level assessments
Uncertain if noise levels at work are safe? Attune Workplace Hearing's qualified Noise Officer will visit your site, conduct noise measurements, and provide a detailed comprehensive report to your company identifying all workers that are at risk of a hearing loss, determine what noise sources are causing that risk, provide solutions for noise control measures as well as checking the effectiveness of existing control measures.
   

Advice on appropriate engineering and administrative controls for plant and workplace design
Attune Workplace Hearing provides suitable engineering and administrative controls in accordance with the Code of Practice Hierarchy of Controls to ensure your hearing is protected at work.
   

On site and online education and training for HSP managers and employees
Attune Workplace Hearing can help facilitate a tailored training program for your business to educate employees in the importance of wearing hearing protection (including correctly selecting, fitting and maintaining hearing protectors), and dangers of hazardous noise exposure in a workplace.
   

Advice on and supply of hearing protection and communication devices to enhance speech whilst suppressing background noise, enabling safe and clear communication in noisy environments
There are various types of PPE for different work environments. Attune Workplace Hearing can help provide a clear understanding of what type of PPE is best suited towards your working environment to ensure your ears are safe at work. By providing the right education and training and regularly monitoring the use of hearing protectors whilst your employees are exposed to hazardous noise onsite, you can manage and prevent noise induced hearing loss. As a result of your compliance, you will not only reduce absenteeism and productivity losses but effectively build company culture, productivity and ultimately increase your business' return on investment.
   

Direct referral pathway to Attune Hearing clinics and Attune Ear Nose and Throat Specialists
At Attune Hearing Workplace, we offer urgent referral pathways to ENT Specialists when appropriate. In addition, all Attune reports are reviewed by ENTs at no cost to you.
   

Attune Workplace combines with Attune clinics to deliver our Corporate Hearing Wellness Program
Not only will we look after your employees at work, we will provide them and their families a pathway to better hearing. The Attune Corporate Wellness Program will allow your employees and their immediate families access to a range of member benefits which include
Annual free hearing check for adults.

Annual free "back-to-school" hearing check for children in January.

Priority appointments in our Hearing Clinics.

Corporate rates on products –Hearing aids, FM systems, custom moulded ear plugs, musicians ear savers, sleep and noise plugs, batteries and all other accessories

Inclusion of a minimum twelve (12) month service package with all hearing aid sales.

Access to our hearing wellness education program.

Priority appointments with Attune Ear, Nose and Throat Specialists when a recommendation is made by an Attune audiologist after reviewing the results of a diagnostic hearing test.

From prevention and education, through to rehabilitation and direct referral to Ear, Nose and Throat Specialist, Attune Hearing Workplace is your complete and holistic solution to managing workplace noise. Are you a Work, Health and Safety (WHS) or Human Resource (HR) Manager in need of solutions to your workplace health and safety? Contact Attune Hearing Workplace today at 1300 998 682 for assistance.
Enquire now